ADIDAS Skate copa court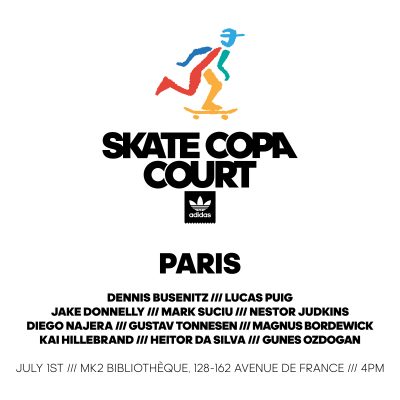 SAMEDI 1er JUILLET MK2 BIBLIOTHEQUE 16 H…Venez nombreux )
TEAM ADIDAS : Dennis Busenitz, Lucas Puig, Jake Donnelly, Mark Suciu, Nestor Judkins, Diego Najera, Gunes Ozdogan, Gustav Tonnesen, Magnus Bordewick, Kai Hillebrand and Heitor da Silva.
Blackbird obstacle designed by Lucas, cash for tricks session on the ledges, manny pad and the blackbird obstacle.
16.00 – Jam session / Opening warm up
17.00 – demo + best trick ledge, manny pad, kicker (cash for each best trick)
18.30 – Obstacle Challenge (Best trick cash grab)
ARTICLES SIMILAIRES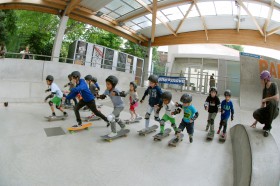 Dates de rentrée cours collectifs 14e et 18e
Les cours collectifs recommenceront le samedi 15 et mercredi 19 septembre. Vous pouvez vous inscrire en ligne et payer en plusieurs fois, si vous souhaitez un prélèvement mensuel...